Four-Channel Programmable Gas Mixer
Mix any four gasses
Applications include control-of-breathing and hypoxia studies
Accurate custom gas mixtures
Wide range of gasses and flows
Custom gas configurations at no extra cost
Stored programs for immediate retrieval
Stand-alone or computer controlled with supplied software
Controlled flow range for any input gas: 10cc/min - 20 liters/min (Note 1)
Flow accuracy (percent of full scale): +1.0%
Flow setting repeatability: +0.15%
Resolution: 0.1%
Temperature coefficient: 0.05% / oC 
Pressure coefficient: 0.01% / oC
Response time (to 0.2%): <1 second
Materials exposed to gas: Delrin with Viton seals
Standard gasses for input: Air, O2, CO2, and N2 (Note 2)
Operating temperature range: 5 - 40° C
Input gas temperature range: 0 - 50° C 
Minimum input gas pressure: 20psi
Maximum input gas pressure: 100psi
Gas inlet connections: quick push/pull 1/4" OD tubing connectors
Gas mixture outlet connection: quick push/pull 1/4" OD tubing connector
Analog gas concentration output scaling for each channel: 0.05V / %
Serial data format: 9600 baud, 8 data, no parity, 1 stop bit
Electrical requirements: 120VAC/220VAC switchable, 35VA
Dimensions: 19W x 5.25H x 12D in., 49W x 13H x 30D cm
Weight: 20 lbs. (9kg)
Note 1: Not to be used for Human Life Support applications.
Note 2: Many other gasses can be selected, except explosive mixtures, which MAY NOT be used.
The GSM-4 Gas Mixer creates custom gas blends from any four input gasses. A mixture is defined by a Total Flow, and the percent concentration of each gas. The resulting flow for each gas is computed and displayed on the LCD display. Four user-defined mixtures can be stored locally on the GSM-4 and turned on/off with a pushbutton. Using the supplied GSM-4-CommVS software, any number of mixtures can be saved on the computer and recalled as needed. The GSM-4 can be operated solely with the front-panel controls, or controlled by the supplied software (see below). Each GSM-4 is customized with the most appropriate flow controllers for the intended application. 
GSM-4-CommVS Software
This software runs on Windows 7, 10 or later versions, and allows user-defined mixture configurations to be saved and loaded as needed. The Sequencer uses a simple programming language to perform timed protocols These timed sequences can be named, stored, and repeated as needed. This capability eliminates the need to manually switch gas mixtures for a particular experimental protocol. Each step in the sequence is programed with a TIME, and a FUNCTION selected from a drop-down menu.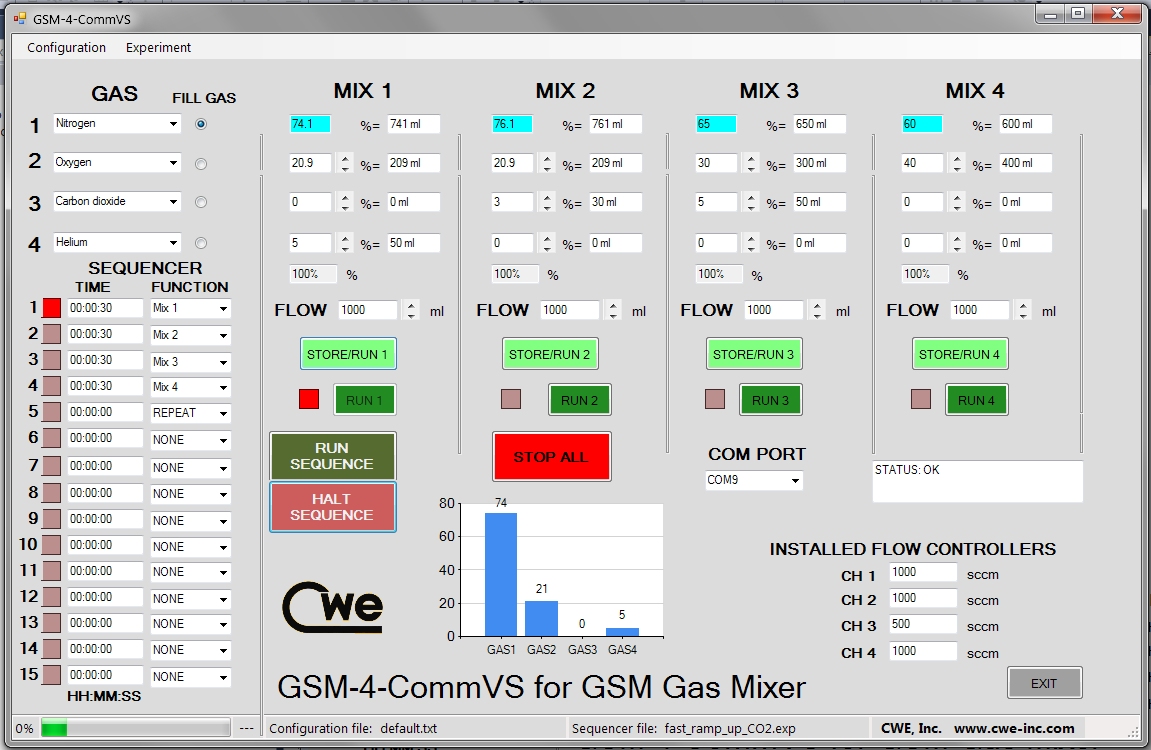 Each GSM-4 gas mixer is customized at no additional cost to you.  If you have any questions about configuring the GSM-4 to meet your needs, please let us know.  Our technical team is ready to work with you in determining the best flow control ranges required to optimally customize your gas mixer.
Data Sheet
Software Updates