CWE, Inc. offers complete Isoflurane anesthesia setups for animals as small as mice. Based on the reliable VAPOMATICTM anesthetic vaporizers, they are a natural add-on for our popular SAR-1000 and SAR-830/AP Small Animal Ventilators. With these ventilators, very simple anesthesia setups are possible. For a non-rebreathing system it is only necessary to add a kit consisting of a vaporizer and flowmeter. The driving gas can be either O2 or an O2/N2O mixture, or the compressed air output from the SAR-830/AP internal air pump.
A range of accessories and related components is available, including anesthetic scrubbers.
Range of gas flow rates 0.1 to 10 liters/minute
Operating temperature range 60o to 90o F
Range of anesthetic concentration 0 to 5%
Calibration accuracy +0.1% concentration
Liquid capacity 200ml
Adding Anesthesia to SAR-830 Ventilators
Any SAR-830 series ventilator can be easily and economically upgraded to an anesthesia/respiratory maintenance station. Aside from a source of pressurized breathing gas (air, O2/N2O
mixture, etc.), all that is required is an Isoflurane kit, consisting of a vaporizer, flowmeter, fittings, and tubing. If an SAR-1000 or SAR-830/AP model is being used (internal air pump
models), no other source of compressed gas is necessary. Please call CWE and we will be happy to advise you on your particular setup.
These anesthesia kits can also be used for simple "blow-by" setups. In this configuration, the animal breathes spontaneously from a stream of anesthetic gas. Face masks for a variety of animals are offered for this purpose.
Anesthetic Vaporizers
The VAPOMATICTM vaporizer is the heart of the anesthesia system. These units are the result of 30 years of experience in the veterinary anesthesia field. They are specially designed for the low flow rates associated with small animal work, and are not merely re-manufactured clinical vaporizers. They are agent-specific; please specify Halothane or Isoflurane when ordering. VAPOMATICTM vaporizers are specifically designed to operate accurately over a wide range of flow rates. The accompanying chart shows the linearity of concentration versus flow rate. The vaporizers are accurate with flows as small as 0.1 liter/minute. The vaporizers come complete with inlet and outlet adapters for connection with standard flexible tubing. Convenient Halothane and Isoflurane kits are available which include a vaporizer, flowmeter, fittings, and tubing (see ORDERING INFORMATION). Four-station flowmeter/regulators are also available, which serve as gas mixing manifolds when using O2 or O2/N2O mixtures.
Anesthesia Scrubbers
For most anesthesia setups using small animals, it is only necessary to vent any anesthetic-bearing gasses to a fume hood or other exhaust system. In cases where this is not possible, we offer the Omnicon F/AIR scrubber unit. This is a highly effective anesthesia scrubber capable of removing at least 50g of halogenated gasses before replacement is required.
An anesthesia absorber kit is available consisting of one scrubber canister, a canister holder, a 40" corrugated connection tube, and tubing adapters. Additional scrubber canisters can be purchased separately.
Accessories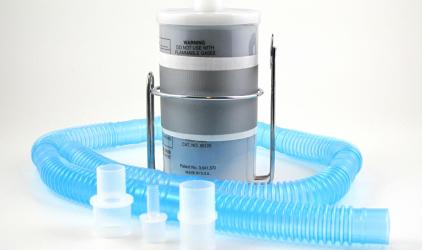 Absorber Kit
Anesthetic absorber kit with absorber canister, holder, tubing, & adapters